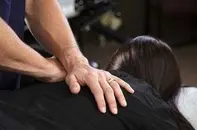 Diversified Technique
This is the most commonly used of all chiropractic techniques and is the one most familiar to patients. Diversified adjustment entails a high-velocity, low-amplitude thrust that usually results in a joint cavitation (quick, shallow thrust often accompanied by a popping noise – a chiropractic adjustment). As the name implies, the diversified technique can be used to adjust many of the joints in the body.

Thompson Technique
The Thompson Technique uses a 'drop table' when providing an adjustment, where a gentle thrust is applied to the joints, which in turn, sets the drop piece into motion and targets the specific joint or tissue. This method of adjustment involves analyzing the length of the legs for inequalities. After completing a leg check analysis, your chiropractor will determine the type of misalignment – cervical, pelvic, or another area and then will adjust your body using a combination of multiple thrusts on various parts of your spine. It is a gentle techniques that can be used on children, adult and seniors.
Activator Technique
The Activator Method uses a small, hand-held instrument called the Activator Adjusting Instrument to deliver a gentle impulse force to the spine with the goal of restoring motion to the targeted spinal vertebra or joint. A spring-loaded, hand-held mechanical instrument provides a quick, low-force impulse at specific points. The speed of the device is quick so that the body's muscles are less likely to tense in response, and resist the adjustment. The lack of muscle resistance may facilitate the effectiveness. The applied force is localized and does not add any additional torque or bending movement to the joint.

Traction (take home devices or table assisted)
Spinal traction is a form of decompression that relieves pressure on the spine. It can be performed manually or mechanically. Spinal traction stretches the spine to take pressure off compressed areas. Traction can help re-develop the spinal curves and improves the body's ability to heal itself.
Traction tables are used for spinal decompression. They can provide numerous health benefits including pain relief and improved spinal alignment. Our traction table has inversion as well, and can be used for nonsurgical decompression with the goal of relieving back and/or leg pain/problems and promoting an optimal healing environment for degenerating, bulging or herniated discs. Spinal traction can assist with herniated discs, sciatica, degenerative disc disease, pinched nerves, and many other back conditions.